3HenrytheGreenEngine (Ryan) is a member of
The Thomas Wooden Railway Community
that joined in August 2009, right at the end of the community's golden days.
First Videos
Ryan posted two videos in 2009, which recieved poor reviews from TenCents01. He removed them, and tried working on remakes. Finally in August 2010, he uploaded a remake of Thomas, Percy, and the Dragon. He followed it up with a remake of No Joke For James in October of that month.
More Videos
In December he made his first video, "Toby's Train", which was narrated by
Klurty34
and then made a video for a competition called "James and the Green Car". He was working on "Devious Dump Diesels" when he privated all of his videos. He uploaded "Devious Dump Diesels" as his first episode of his series narrated by TheTopHatts. Episode 2 was originally a Christmas Special starring himself, EricPierre53, and SirtophamHatt291, but was replaced by Jumping to Conclusions narrated by
LNERFlyingScotsman
(Ryan had thoughts to remake the episode.) Ryan uploaded videos unfrequently but they were very professional. He uploaded Episode 3, "Glory Days", narrated once again by TheTopHatts. About 3 months later he uploaded Episode 4, a remake of "Toby's Train". On September 11 he unprivated the orginal version for comparison and by popular demand. After that was unprivated, "King Edward" was uploaded (narrated by 
RailwayofSodor
) and "Snow Day" (Narrated by a close friend) was uploaded a few months later.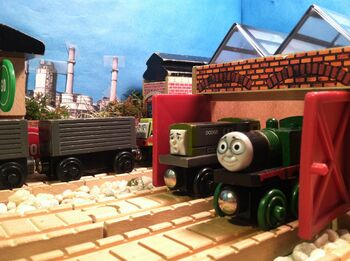 Mini series
Ryan has a mini series since May of 2012. There is one episode called Gronks which stars LNERFlyingScotsman and WoodenRailwayStudio while he was on his MrStepney55 account. He uploaded a short for the 2012 Wooden Railway Competition, and won 4th place.  He has announced though that he will revisit the series; he also announced that he would want a script for a Christmas short. This, however was canceled but early in 2013, a second short was uploaded.
Bonuses
Ryan has reuploaded 2 of his remakes:  Bowled Out, and Stepney Gets Lost. Ryan has also began to do some "Behind the scenes videos" in which records himself either building a set, or cleaning up a set, and then fast fowards it. These a great pass-time videos to keep the audience entertained before a real episode comes up. So far there have been only 5 BTS videos.
Non-Thomas Videos
Ryan does more videos that just Thomas Wooden Railway. He is currently working on a friend's series "The Adventures of Blindbeard and the Misfortunate Heroics of AntiHeroMan". In 2013, Ryan had been putting more effort into non-thomas related videos with his short series "Amongst the Undead" which he directed.
Goodbye?
In the descripton of his video "Welcome Stafford," he said his video "The Missing Coach" could possibly be his last Thomas video. And, on Twitter, on January 13, 2014 he announced that "The Missing Coach" was canceled. However, Ryan still wanted to make another episode.
TWRC Exclusive:
Ryan had plans for an audio podcast with the extention of his Thomas Wooden Railway Series beginning in the Fall of 2014. It was not clear how long it would last, reports said anywhere from one episode to multiple seasons.
Accounts:
3Henrythegreenengine: Main
ThomasWRR: Reviews
7TobyTheTramEngine: Old
QuarryTruck45: Backup
GzarageFX: Non-Thomas Live Action
BrickTVStudios: Lego Stop-Motion
PrimeKitty78: Misc.
Farewell
On March 16, 2014, Ryan made a video to say he was done making TWR videos.  He said there would be a chance he would make new TWR videos, but it was most likely not going to happen.  He also said he was going to college and has other YouTube channels he runs.  His almost 5 years as a community member would not be forgotten in the time of his absence.
Return
Two years later, on December 4th, 2016, Ryan made an announcement on Twitter stating that he was returning to the community and was going to start making videos again. He is currently working on a special project.
Ryan Today
In June 2018, Ryan, along with 16 other TWRC members, attended TWRCon 2018. As of December 2018, he is still active on Twitter, and has uploaded a trailer for an upcoming project.