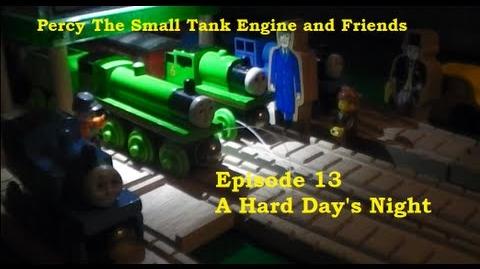 "A Hard A Day's Night" is the 13th episode and season finale of
season 1
of
Percy The Small Tank Engine and Friends
. The episode was scripted in late March and uploaded in October.
Plot
Henry and Percy have goods trains to take at night, but both get behind after having accidents and were unable to take their trains. They try hard the following night with double the cars of the usual. Sir Topham Hatt sends out Thomas and  Edward for help Henry and Percy respectivley. They help out and deliver the trains to their destinations.
Cast
Percy: Main Role
Thomas: Main Role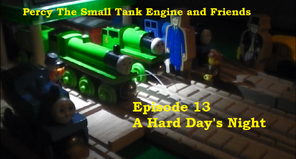 Edward: Main Role
Toby: Minor Role
Henry: Non Speaking Role
Gordon: Cameo
James: Cameo
Bertie: Cameo
Diesel: Cameo
Annie: Cameo
Clarabel: Cameo
Henrietta: Cameo
Goofs
The camera shakes sometimes at the end of a clip.
The camera tilts down unwantingly at the first night Knapford scene.
James's coupling sounds are late.
The end of the dock side set can be seen when the camera zooms out unexpectedly.
Henry's train is on the same line as Percy if taking in consideration of placement.
In the shot of all the engines, Edward, and Toby's lines can be seen to end.
Henry and Percy are still seen trying to clear the platform after the conductor ordered the two to stop.
Several sound effects are late at the sheds scene.
Sir Topham Hatt's shilloute can be seen in his car, but he is standing outside.
Edward's coupling sounds are off.
At the scene wth the two lift bridges, Roberto's hand can be seen.
A frame of the seaside scene is seen when Percy and Edward arrive at the Mail Sorting Facility.
The fish in the black cargo car in Henry's train can be seen to have missing the fish when Henry disconnects from the train.
Trivia
The episode ran for 10:33
The episode had it's first outdoors scene.
The episode was the final episode in Season 1.
Newer models of Henrietta, Annie, Clarabel, Percy, Gordon, and Toby were first used.
The episode had the working title "The Night Trains" but changed once the episode was written.
The episode is a pun to a popular The Beatles song: "A Hard Day's Night"