TenCents01, or Ben, created his account on June 3, 2007 and was one of the more famous past YouTubers in the Thomas Wooden Railway Community. He was known for his huge collection with many rare items, including at least one White Face Troublesome Truck. He was also one of the first people to use eBay for purchasing rare/collectible Thomas Wooden Railway items.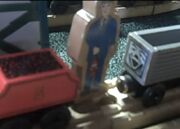 Collection
TenCents01 was best known for his layouts and collection. He had almost all of the rare TWR items (such as the White Face Troublesome Truck and first edition Knapford Express coach) and his layouts consisted of almost all Clickity-Clack track (which is difficult to come by, since it is retired). Many current users have hopes of owning a fantastic collection like him.
Trivia
Tencents01 had a series called "The Sodor Chronicles". It was was very popular at the time even though he had only two episodes.
He uploaded two layout videos of his current layouts at the time, as well as some other assorted videos

such as book narrations, TOMY/trackmaster videos, some YouTube poops, some Thomas anthems and a few other random videos. His last video was a YTP called Duncan the rick rolling engine.
While his main channel during his time on YouTube was TenCents01, Ben had made other accounts prior to making TenCents01.
Leaving YouTube
Ben quietly left YouTube around late 2010. His final video was uploaded on August 3, 2010. His collection and many different videos will make his legacy last in the Thomas Wooden Railway Community. He will not be forgotten.