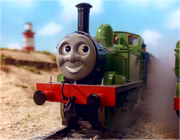 Thatlegorandomguy
, or as he is now known as,
Thatlegorandomguy1
or by name Aidan is a member who joined YouTube on his original account on August 11,
2008
.  
History
Aidan didn't make a video until about a year later but he interacted with several members of the community. He made several animated and news (such as new Thomas Wooden Railway items or news about new episodes or specials) vidoes starting in the summer of 2009. In the summer of 2011 he made his first remake, "Bulgy" on his recently built layout. For the rest of the summer he made various remakes and episodes of his series "Thomas' Trainyard Tales". He had to take town his layout a short while later and until the summer of 2013 made, as his name suggest 'random' videos. In August 2013 he started making reviews of new, old, and obscure items in his wooden railway collection. He planned to make LEGO stopmotions, movie reviews, video game urban legends, and of course, Thomas-related videos in the near future.
Aidan lost the password to his original account in 2010, which is why he made thatlegorandomguy1. All of his Wooden Railway videos were/are uploaded on thatlegorandomguy1.
Along with his Thomas Wooden Reviews, Aidan also does "Kitchen Table Reviews", a series where he reviews various action figures on his kitchen table.
Remakes
- Bulgy
- Oliver's Find
- Rusty To The Rescue
- A Bad Day For Sir Handel
- Thomas and Stepney
- Passengers and Polish
- Percy, James and the Fruitful Day
- Wrong Road
- Bye George!
- Horrid Lorry
- Granpuff
- James Learns a Lesson
Thomas' Awkward Adventures
- Pilot
- The Commercial
- Thomas' Story
- Crime and Punishment
Thomas' Trainyard Tales (Rebooted Series)
- The Little Western
- Not So Little, Are We?
Reviews
- S.C. Ruffey
- Derek
- Sodor Road Crew
- Adventures of James
- N.W. Brakevan