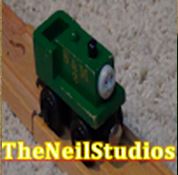 TheNeilStudios, Neil for short, created his account on April 19, 2013.
Beginnings
The two videos that brought Neil to the spotlight were: the Percy Runs Away remake, and his train review on Connor. His remake caught many Youtuber's attention, including Jlouvier, and is the main reason why his subscribers went up. The review on Connor was the first on YouTube, so it is clear why that video gained a considerable amount of views; ThomasWoodenEpisodes, HenryisGreat15 were among some members of the community that saw it. In addition, his Thomas Wooden Railway competition video is one of his more well known videos; it was inspired by ThomasWoodenEpisodes's entry. Presently, and his most popular video being the "Percy Runs Away" remake. This video has over 70,000 views. 
Departure
Sadly, through the summer, no videos were published as he promised. Finally, his channel came to an end on August 28th, 2014, when he announced he was going to sell most, if not all, of his TWR Collection. He
said he had lost interest in filming videos. His time on YouTube will be remembered.