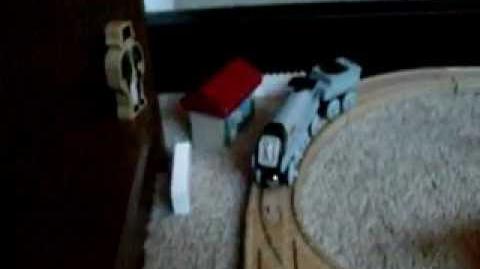 "The Trouble with Spencer" is the sixth episode of ThomasWoodenRailway's series Thomas the Tank Engine and Friends Wooden Railway Adventures, and is the sixth episode of Season 1.
Plot
Spencer, jealous of Mike's newfound attention, plots to get back at Mike for stealing his spotlight. After working hard one day, Mike decides to go to the Sheds. While he is sleeping, Spencer quietly places some Troublesome Trucks in front of the turntable so that Mike can't get out. Just as Spencer leaves, Gordon comes racing around the bend with the Express and crashes into the trucks. Mike awakes just as the accident occurs, and sees the trucks running down the line out of control. They enter the Yard, and run across a turntable that Spencer is sleeping by. He chases after them and tries to make them stop, but they end up crashing into Murdoch's goods train, ironically right in front of the Duke and Duchess's house. The Fat Controller severely scolds Spencer, and tells him that none of this would have happened if he hadn't been jealous of Mike.
Cast
Mike
Arthur
Spencer
Toby
Gordon 
Grey Troublesome Truck 
Giggling Troublesome Truck
Troublesome Truck
Murdoch
The Fat Controller
Thomas (cameo)
Alfie (cameo)
Duke of Boxford (mentioned)
Duchess of Boxford (mentioned)
Tigermoth (cameo)
Fred (cameo)
S.C.Ruffey (cameo) 
Rickety (cameo)
N.W.Brakevan (cameo)
Harold (cameo)
Boco (cameo)
Thumper (cameo)
Henrietta (cameo)
Rocky (cameo)
Trevor (cameo)
Jack (cameo)
Percy (cameo)
Donald (cameo)
Terence (cameo)
Harvey (cameo)
Butch (cameo)
Sodor Bay Tugboat (cameo)
Toad (cameo)
Oliver (cameo)
Cranky (cameo)
Trivia
First appearances for Murdoch, Henrietta, Harvey, and the Sodor Bay Tugboat.
First speaking roles for Arthur, Grey Troublesome Truck, Giggling Troublesome Truck, Troublesome Truck, and Murdoch.
This episode was originally uploaded to Keekre24 sometime between June 25-30, 2008. It was reuploaded to ThomasWoodenRailway on March 13, 2009.
This episode shares a very similar title with the first episode of the season, The Trouble with Trucks.