ThomasWoodenRailway (TWR for short), aka Keekre24 or Keekre, is a member of the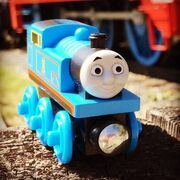 Thomas Wooden Railway Community. He is one of the earliest members of the community, originally joining on April 24, 2008 as Keekre24. With over 100,000 subscribers and over 150,000,000 channel views, he is considered statistically and by opinion the most popular and successful member in the community. He was a member of
TWR Community Radio
.
Beginnings 
ThomasWoodenRailway first joined YouTube on April 24, 2008 with the username Keekre24. He had been inspired by the works of waylon8tor, DiamondThomas, and TRAINSARECOOL2 and had watched their videos since the summer of 2007. In late May of 2008, TWR began filming videos on his home-made Thomas Wooden Railway layout. These videos were stories that took place on the fictional Island of Sodor inspired by the books of Reverend Wilbert Awdry and the Thomas and Friends TV Series. TWR intended to upload these original episodes to YouTube, but the video camera he was using was so old, it never came with a computer adapter. Therefore, these original videos remained off YouTube and on the original cassette tapes. 
Keekre24
Determined to find a way to upload videos to YouTube, ThomasWoodenRailway found a relatively new digital camera with a video record option. He filmed a quick video of his wooden railway layout and uploaded it titled "My Thomas Wooden Railway Layout". The video is still on YouTube today, now with the title "ThomasWoodenRailway's Thomas Wooden Railway Layout (#1)". The video was a success, gaining over 50 views in the first week, which was a large sum during that time. During the early weeks of June 2008, TWR uploaded some additional videos, including original versions of his Thomas Wooden Railway collection, rare Thomas Wooden Railway collection, reviews of Duncan & Thomas and the Special Letter DVD, NIB Terence and Bulgy, a Thomas Wooden Railway/LEGO collaboration that was uploaded on Keekre23, and the unofficial pilot of his wooden series titled "George the Steamroller" (All of the videos mentioned are no longer on YouTube).
During the second week of June, however, TWR was unhappy with where his videos were leading him, and decided to start with a clean slate. He deleted all of his videos and rebooted his wooden railway series, calling it
Thomas the Tank Engine and Friends Wooden Railway Adventures
. He uploaded the pilot episode of the series on June 15, 2008. The episode, "
The Trouble with Trucks
", now has over 1.4 million views after being reuploaded on the account ThomasWoodenRailway. During this time, TWR also launched his own production company, Bluebell Railway Films, to be the producer for his wooden railway series. Therefore, his icon while on Keekre24 was a picture of Stepney pulling the fossil car from the Thomas-saurus Rex set. Notable episodes from Season 1 include Spamcan and Bowler getting kicked off of the railway, the introduction of Wilbert and Frank over the course of four episodes, and Thomas's events on the 4th of July. The episode "
Thomas' 4th of July
" was also the first episode to be managed by ThomasWoodenRailway's new production company, Keekre24 Studios, which is still in effect today. Bluebell Railway Films had closed right before "Thomas' 4th of July" was set to be filmed. Episodes continued to be uploaded throughout June and Season 1 ended on July 5, 2008 with the episode "
Murdoch and the Express
". A video titled "Thomas Wooden Railway Season 2 Update" was uploaded after this episode and talked about what to expect from Season 2. Season 1 had 15 episodes and took three weeks to film and upload. A four-part movie, "Thomas and the Storm", was uploaded, signifing the transition between the two seasons.
Season 2 commenced on July 9, 2008. It saw the introduction of the first Narrow Gauge based episode (although the Narrow Gauge engines had appeared frequently in some Season 1 episodes) when Skarloey and Rheneas went to Crewe for repairs. The Flying Scotsman arrived on Sodor in Episode 17 and much of the season was spent depicting how Sodor reacted to the famous engine, including encounters with Daisy, James, Emily, Wilbert, and Frank. Sir Topham Hatt narrowly escaped getting run over by the Flying Scotsman in "Save Sir Topham Hatt!", while Gordon and Spencer had a race to determine who was the best engine in "The Daring Duel". The Flying Scotsman left Sodor during the last episode of Season 2, but promised he would return soon.
Instead of jumping straight into Season 3, ThomasWoodenRailway decided switch things up before it actually began. He picked up his layout that was used during Seasons 1 & 2 and moved it down into his basement so that he could do remakes. There was more space to film in his basement than in his room, and he needed a TV so that he could play the episode while filming the remake. This change was marked in the difference of carpet color during the following videos. A new layout was built ("ThomasWoodenRailway's Thomas Wooden Railway Layout (#2)") and seen in his first remake of a Thomas and Friends episode, "Toad Stands By". This video was the most popular video while TWR was on Keekre24. After nine more additional remakes on small, individual layouts custom-made for each
remake, Season 3 began with the introduction of Mighty Mac, who was not seen in the first two seasons. Rusty the diesel, another Narrow Gauge character, was featured in Episode 35, "Rusty Rocks the Railway", making it the first time he had appeared in an episode. "George the Steamroller", the original pilot for the series, returned with a very similar plot that was originally used. "Cranky's Delivery" was the first two part episode in the series. A new layout was built for the episode "Diesel's Dilemma", while the layout used in the "Toad Stands By" remake returned for one episode, "Clumsy Culdee". Rickety and S.C.Ruffey were almost scrapped after separate incidents, but Sir Topham Hatt decided to keep them in service. The season concluded with Donald discovering Spamcan and Bowler had returned to the railway, and Mike crashed while pulling the Express after Frank shunted some freight cars into the turntable. ThomasWoodenRailway's 2nd movie, "Lady the Lost Engine", immediately followed Season 3. It was originally released privately to 25 subscribers who were randomly picked by ThomasWoodenRailway before it was shown publicly to the rest of YouTube. This was also the first time film that Thomas the Tank Engine and Friends Wooden Railway Adventures Productions would help with the filming process. Season 4 introduced the characters Catherine, Billy, and Ivo Hugh. Bowler and Spamcan, who were never caught in Season 3, returned and caused chaos in the episodes "The Unseen Diesels" and "Henry's Tunnel". Duke taught the Narrow Gauge engines some valuable lessons in the season finale, "Duke Takes Control". Two layouts were used during Season 4; one layout was used from "Lady the Lost Engine" to "Thomas and the Ghost" and was the first to include the Oil Depot, Hatt St. Crossing, Drawbridge, and the new version of Elsbridge Station. The second layout was used for five episodes from "Rosie's Wild Ride" to "Duke Takes Control". 

Fifteen remakes followed Season 4, including favorites such as "Busy Going Backwards" and "Oliver Owns Up". A miniature, permanent layout was built for the setting of the original Thomas and Friends episodes such as "Thomas Gets Tricked", "Come Out, Henry", "Trouble for Thomas", and "Thomas and the Breakdown Train". A remake of "Old Iron", ThomasWoodenRailway's favorite Thomas and Friends episode, was the 100th video uploaded on Keekre24.
Season 5 began on November 27, 2008 and ended on December 25, 2008. This season is the only season to feature a Thanksgiving and Christmas themed episode to date. Memorable episodes include "Boastful Billy", "Edward the Unreliable Engine", "Daisy's Big Disaster", and "Wilbert Gets Pranked". The season concluded with a two-part episode (one part uploaded on Christmas Eve and the other uploaded on Christmas Day) that introduced Smudger to the series. It was also one of the first episodes to feature the road vehicles as the main protagonists. Fearless Freddie made his debut in "A Windy Day for Boco", and new style versions of Peter Sam, Oliver, Toby, and Bertie were used as well throughout the course of the season. The Season 6 Update that followed the season finale was notable because it allowed fans to vote for either Diesel 10, The Flying Scotsman, or Lady to appear in Season 6. The Flying Scotsman received the most votes, and appeared in Season 6. The layout seen during the season was used for the entirety of Season 5, the only layout besides the Season 1 & 2 layout and Season 9 layout to do so to date.
Uploaded almost immediately after Season 5, "The Strange Case of Splatter and Dodge" was ThomasWoodenRailway's first documentary. It depicted what happened after the cameras of "Thomas and the Magic Railroad" stopped filming. Due to a troubled filming and editing process, many questions were left unanswered after "Thomas and the Magic Railroad" was released. ThomasWoodenRailway attempted to make sense of what could
have happened to Lady, Diesel 10, Splatter, and Dodge. "The Battle of the Branchlines" was uploaded following "The Strange Case of Splatter and Dodge", the first time a movie and documentary were uploaded one after another. The plot for "The Battle of the Branchlines" was supposed to be used in a Season 5 episode, but it so long that it ended up being turned into a movie. A remake of "Thomas and the Magic Railroad" was uploaded next, totalling 14 parts in all. Some of the parts range from as few as 38 seconds to as long as 7 minutes. This was due to the fact ThomasWoodenRailway only reenacted scenes from the Island of Sodor, not for areas such as Shining Time, Muffle Mountain, or the Magic Railroad itself.
Season 6 commenced sometime in early January with the episode, "The Loose Caboose", on the same layout used in the documentary, movie, and "TATMR" remake. "Gordon's Flying Kipper" quickly followed, and then by the episode "Boulder's Express Route". However, that would be as far as Season 6 would go, and it would be another four months before Thomas the Tank Engine and Friends Wooden Railway Adventures would resume production.
Hacking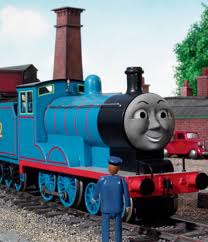 Around the third week in January 2009, ThomasWoodenRailway received an YouTube Personal Message (PM) from a user claiming to be a part of YouTube's Help Center. The user needed TWR's password to his YouTube account as well as to his email address so that he could upgrade Keekre24 to the latest YouTube standards. ThomasWoodenRailway thought the PM was legitimate, and PM'd the user back with his email and password. The next day, Keekre24 was hacked, and the password was changed. In a matter of minutes, TWR's work for the past nine months was gone.
Although it was a mystery for a long time about how the account was hacked because ThomasWoodenRailway would not elaborate on the details, he has recently stated in various Skype calls with the rest of the community and in an interview with MrMPS2002 (which occured in 2012) about what happened. 
NWBrakevan 
Immediately after Keekre24 was hacked, ThomasWoodenRailway created the account NWBrakevan (reference to Spiteful Brakevan in the episode "Breakvan") and re-friended many of his old friends on Keekre24. TWR's main mission was to let everybody know that he was alright, as people were still visiting the now-hacked Keekre24 and wondering what had happened. After debating whether to even continue on YouTube after the unthinkable had happened, ThomasWoodenRailway decided to reboot Thomas the Tank Engine and Friends Wooden Railway Adventures. He traveled back up into his room and made a brand-new collection video, layout video, as well as trailers for two other series. Thomas the Tank Engine and Friends Wooden Railway Adventures would feature brand new episodes, as well as episodes with plots similar to some episodes uploaded on Keekre24. Narrow Gauge Adventures was the second series to be filmed by ThomasWoodenRailway. It would focus on the Narrow Gauge engines, and no standard gauge engines would appear. Similar to Thomas the Tank Engine and Friends Wooden Railway Adventures, new and used plots would be used. The third and final series was Duke's Railway Stories. The main characters would include Duke, Ivo Hugh, and Neil, who was bought by ThomasWoodenRailway off of eBay in January 2009. Duke and Ivo Hugh were the only two characters that would appear in the more than one series, as Neil would only be featured in flashbacks during Duke's Railway Stories. 
The first three episodes of Thomas the Tank Engine and Friends Wooden Railway Adventures were uploaded following new remakes such as "The Diseasel", "Edward's Exploit", "Percy Takes the Plunge", and "Percy's Predicament". These episodes, however, were only on YouTube for just under two weeks before all videos were removed from NWBrakevan. No episodes for Narrow Gauge Adventures or Duke's Railway Stories were ever filmed.
Keekre24FanClub 
Keekre24FanClub was a short-lived backup account for ThomasWoodenRailway. It was originally intended to be the location of ThomasWoodenRailway's former episodes of Thomas the Tank Engine and Friends Wooden Railway Adventures. TWR would upload the old videos on Keekre24FanClub, while uploading brand new episodes on NWBrakevan. However, this idea never materialized because ThomasWoodenRailway elected to reupload the old episodes on the account ThomasWoodenRailway and the continue from where the series left off.
Rather than have the account sit for years with no purpose, ThomasWoodenRailway decided to make it a "fan club" account. Users could become part of the fan club by subscribing to the channel. Although it is still open, ThomasWoodenRailway has not logged into the account since March 2009.
ThomasWoodenRailway 
The account ThomasWoodenRailway was originally intended to be a backup account for TWR while on NWBrakevan, but it was later turned into the main account. It was created on February 5, 2009, and ThomasWoodenRailway's remake of "Toad Stands By", the most popular video while on Keekre24, was uploaded on February 8th. After NWBrakevan was closed, TWR transitioned over to ThomasWoodenRailway with the intent of reuploading all of the videos that were on Keekre24. He started the uploading process on March 11, 2009, less than two months after Keekre24 was hacked.
Videos were uploaded very frequently, sometimes more than ten a day. ThomasWoodenRailway's goal was to upload the videos as quickly as possible so that he could get back to making new episodes. With his new account, TWR began to reupload all his old videos on February 8, 2009. In between Seasons 5 and 6 just before old remakes were to be uploaded, ThomasWoodenRailway uploaded a special 1 Year Anniversary video commemorating having spent a year on YouTube, a huge milestone considering what he had been through. The video featured music and was essentially a tour of a layout made specially and specifically for the Anniversary video. The next day, a remake of "Busy Going Backwards" was uploaded, signally old videos were to keep returning. The last episode seen on YouTube before the hacking, "Boulder's Express Route", was reuploaded on May 18, 2009. The next episodes from "Rosie Being Lazy" to "Officer Murdoch" were filmed by ThomasWoodenRailway before Keekre24 was hacked, but were never before seen. Episode 85, "Trucks Galore", was the first video filmed and uploaded for the series since the hacking. Season 6 finally ended on June 1, 2009 when "An Opportunity of a Lifetime" was uploaded.  Four months after the unthinkable happened, ThomasWoodenRailway was back to making new episodes.
Before continuing on with Season 7, scheduled to premiere sometime in Summer 2009, ThomasWoodenRailway reuploaded old layout and collection videos. This was then followed by brand new remakes such as "Bulgy", "The Flying Kipper", "Duncan Gets Spooked", and a new version of "Percy's Predicament" that was different from the one uploaded on NWBrakevan. Instead of staying in his basement to film for Summer 2009, ThomasWoodenRailway ventured once again up into his room to film Season 7, the third time this was done. A new layout, "ThomasWoodenRailway's Thomas Wooden Railway Layout (#5)", was uploaded on June 24, 2009, and has become one of TWR's most popular videos. The layout was intended to be the location of a movie, "Wheels of Fortune", a documentary titled "The Legend of Diesel 10" that was announced in the Season 7 Update, Season 7, and possibly Season 8.
The first two parts of "Wheels of Fortune" were uploaded on June 25, 2009. They featured many brand new characters such as Neville, Molly, Hank, Whiff, Stanley, Neil, Byron, and Max & Monty, who were ordered by Sir Topham Hatt to replace the "Senior Engines" (engines who have been on Sodor for a long time, such as Thomas and Percy). Parts 3 & 4 were delayed for over a month, but were finally uploaded on July 29, 2009. The Senior Engines, unhappy with these abrupt changes, decided to revolt and caused all of the "New Engines" to crash while pulling their new trains in Part 3.  Part 4 saw The New Engines taking revenge on the Senior Engines because they had disobeyed Sir Topham Hatt's orders, and they still wanted to pull their new trains. Sir Topham Hatt, disgusted with engines' behavior, announced he and Lady Hatt would be leaving for vacation at the end of Part 4, and that the engines had to fix everything by the time they got back.
"Wheels of Fortune" was met with controversial reviews, which was unusual at the time because the majority's of ThomasWoodenRailway's videos had been acclaimed up until that point. One criticism was that Sir Topham Hatt was out of character, speaking very rudely to the engines and buying a car because he realized that engines were out of date. Sir Topham Hatt was the main antagonist of the movie, although the two sides (Senior Engines and New Engines) are rivals to each other throughout the movie. Many people felt that Sir Topham Hatt should not be the antagonist of a Thomas Wooden Railway movie. Another criticism was the fact that the movie was split up over a month due to delays, and that it didn't feel like a very put together movie. Part 5, the finale, was to feature Sir Topham Hatt and Lady Hatt leaving Sodor for vacation, but getting caught in a very bad storm. The Senior Engines and New Engines would need to team up in order to save him. However, Part 5 was never filmed, and so the movie remains incomplete. Because of this, shortly after Parts 3 & 4 were uploaded, ThomasWoodenRailway removed the entire movie from YouTube and announced that "Wheels of Fortune" had been cancelled. "Wheels of Fortune" is highly sought after by fans of the series, and many wish that ThomasWoodenRailway would release the movie to YouTube once again. It is still on YouTube, but it is on "Private", and therefore, nobody can view it unless ThomasWoodenRailway decides. There have been many rumors over the years of possibly ThomasWoodenRailway redoing the movie, or using the title "Wheels of Fortune" again, but nothing has been confirmed.
In replacement for "Wheels for Fortune", ThomasWoodenRailway uploaded a review of the 2009 Thomas Wooden Railway Yearbook. He has not done this type of review since, although other users on YouTube have done so. ThomasWoodenRailway traveled back down into his basement to film "The Legend of Diesel 10" and Season 7, although "The Legend of Diesel 10" was later cancelled and saved for a later date. 
ThomasWoodenRailway also uploaded his first three ThomasWoodenRailway Discussions in early October 2009. His first items were a 1993 Knapford Express Coach, White-roof Rusty, and a 1992 Douglas, all of which came from eBay. "ThomasWoodenRailway's Thomas Wooden Railway Layout (#6)" was uploaded ten days later, and featured many new innovations that had never before been seen on TWR's layouts. Season 7 commenced a few days later and finished in about three weeks, but the episodes were not uploaded until December. Season 7 was a very special season, as ThomasWoodenRailway asked users to submit episode titles. In the end, 14 out of the 15 episodes featured used titles submitted by users. Season 7 was a milestone for Thomas the Tank Engine and Friends Adventures, as the 100th episode, "Not So Fearless Freddie", was uploaded on December 23, 2009. This was the only title in the season that was not requested by a user. ThomasWoodenRailway used this title because he did not want to play favorites and give a user the opportunity to title the 100th episode. Although the episodes were uploaded over the Christmas season, there was no Christmas episode. Season 7 concluded on December 29, 2009 when "Terence's Train" was uploaded. The Season 8 Update was uploaded the same day, and instead of the usual information about who was to appear and pull specific trains, the majority of the video was a tour of a new layout that had been built for Season 8.
Before beginning Season 8, ThomasWoodenRailway provided a short teaser of Season 8 by uploading the Keekre24 Studios 2010 Intro that was to be used at the beginning of all Season 8 episodes. A few days later, the second round of ThomasWoodenRailway Discussions were uploaded, including the Come Out, Henry set, Flying Scotsman, Wilbert, Frank, and the Five Car Value Pack. For the first time, ThomasWoodenRailway uploaded a video about eBay purchases. Usually if an item was purchased off of eBay, it was introduced into the series with no explanation. However, ThomasWoodenRailway purchased so many items at once following Season 7, he decided to upload a video showing all of the new items.
Season 8 of Thomas the Tank Engine and Friends Wooden Railway Adventures was a season of change. ThomasWoodenRailway received a new video camera for Christmas, and so the video camera that he had used for the majority of his time on YouTube was retired. The new video camera, a Panasonic SDR-S26, came with an editing system and allowed ThomasWoodenRailway to shoot individual shots and put them altogether during the editing process. Another change involved the models of the engines. New style versions of Thomas and Henry had been used since the very beginning, but now old style models were used for both of those characters. "Jack is Back", the first episode of Season 8, was uploaded on January 18, 2010 using the new editing format and the new models of the characters.
Hiatus
Only four episodes of Season 8 were uploaded when ThomasWoodenRailway announced via his channel that he was leaving YouTube. He had grown tired of the repetitive process and wanted a break, along with the fact that he was very busy with school. He also cited that the new filming process was boring, since there was no improvisation involved and the new normal was now reading off of a script behind a camera on a tripod. Although he had filmed the next two episodes in Season 8, he decided not to release them and instead end with the episode "Bulstrode and the Fisherman".
Revival
The hiatus did not last as long as everybody had thought. In June 2010, ThomasWoodenRailway wrote on his channel: "Thinking About Coming Back...". He had been replying to comments and PM's for the past few weeks but he was still unsure if he wanted to start making episodes again. Finally, in July 2010, ThomasWoodenRailway announced via his channel that Season 8 would resume. He uploaded the previously filmed episodes "The Faulty Coupling" and "Tick-Tock-Jock" while building his layout once again. Fans were surprised when they watched "Sir Spencer of Sodor", the first episode filmed after the hiatus. Instead of the same layout and the basement as the location, there was a brand new layout in ThomasWoodenRailway's room that was the setting instead. Due to the fact that it was the middle of the season, no layout video was ever made. This was the fourth and final time that ThomasWoodenRailway filmed episodes in his room to date. The new episodes kept the same style of filming, just on a new layout. "Fire at the Sheds" was the last episode of Season 8, and fans eagerly awaited the Season 9 Update. But, it would be almost a year before the Update would reach YouTube.
Hiatus #2
ThomasWoodenRailway was absent from YouTube for nearly a year, this time with no explanation. Similar to the first hiatus, he was tired of the filming style and needed some time off. School was also a pressing issue, and he wanted some space. In an effort not to make a big deal this time about leaving, he simply logged out of his YouTube account and packed up the layout. He would log in from time to time to see how things were going in the TWR Community, but he would not respond to any comments or PM's.
Revival #2
In late July of 2011, ThomasWoodenRailway returned to YouTube for the second time. He had been debating for most of the summer whether to return or not, and finally did so after talking for some weeks with other TWR users. However, his first video back, the Season 9 Update, was not uploaded until September. During the Season 9 Update, TWR announced that he would return to the basement for his filming location. This is also when ThomasWoodenRailway's voice was notably different than in the previous video "Fire at the Sheds", which was filmed nearly a year ago.
In an effort to get back into the swing of things, uploaded a third collection video, his first since 2009. ThomasWoodenRailway had bought numerous rare items during the Summer of 2010 that he never got the chance to do ThomasWoodenRailway Discussions on them, and so he uploaded 34 consecutive ThomasWoodenRailway Discussions about rare and retired Thomas Wooden Railway items. Following the discussion on the Sodor Bay Tugboat, a seventh layout video was uploaded. This layout was particularly unique because it contained features from previously layouts as well as brand new areas. After over two years of delays, "The Legend of Diesel 10" was uploaded, shortly followed by a movie, "Sodor's Last Stand", both of which were planned to follow the conclusion of Season 8 in September 2010. Both the documentary and movie were met with critical acclaim and went viral shortly thereafter. Season 9 began production on October 31, 2011 with the Halloween themed episode, "Hankenstein". "Help for Bertie" was the second episode of the season. However, it would be the final episode of Season 9 for quite some time. 
Hiatus #3
"The Kipper Caper", the third episode of Season 9, was scheduled to be uploaded during the second week in November. ThomasWoodenRailway confirmed this in a Twitter post and in a PM to HenryisGreat15. The episode actually was in the process of uploading one day but it was shut down for unknown reasons. ThomasWoodenRailway had once again decided that he needed time off. He left in November 2011 without a word to his fellow companions. During February of 2012, ThomasWoodenRailway posted on his Twitter account "dd", in which user thomasfreak808 thought it had something to do with the ill-fated channel DemandDiscussions (abbreviated DD sometimes). ThomasWoodenRailway has stated that he does not know how this tweet was sent out because he was not logged into his Twitter account during this time. 
However, only a few months later in March 2012, ThomasWoodenRailway returned to YouTube to report that he was selling his trains in the summer. This was a shock to the Thomas Wooden Railway Community, as the community's most popular user was deciding to quit. This is when the community reached an all time low. Every time ThomasWoodenRailway had left YouTube, Thomas Wooden Railway videos decreased drastically and involvement in the community dropped. ThomasWoodenRailway even went as a far as taking pictures of this TWR items for eBay, and made deals with several users on Twitter to give them some items for reduced cost. In a 50 minute-long eBay video discussing the details of the auction, ThomasWoodenRailway infamously remarked, "There's no turning back", referencing that he was going to sell his Thomas Wooden Railway items once and for all.
Revival #3
Overnight, ThomasWoodenRailway suddenly announced during the first week of May 2012 that he was not selling his Thomas Wooden Railway items, and that Season 9 would continue in Summer 2012. The community was overjoyed that there was a possibility the Thomas Wooden Railway Community could return to its former glory during 2008 and 2009. He had filmed "The Kipper Caper" and "Tender Bender", the next episodes in Season 9, before he left in November. He uploaded those episodes in late May and early June, signaling that Season 9 was here to stay. "Harvey's Second Chance", the fifth episode of Season 9, was filmed in early June and uploaded shortly thereafter. The rest of the Season 9 episodes were gradually uploaded over the course of the Summer. New characters included Paxton andJeremy in the episodes "Railway Stowaway" and "Planes, Cranes, and Games". Proteus and a yellow version of Rheneas made an appearance in the episode "Special Tunnel". The episode made fun of HiT Entertainment's random use of characters as well as the controversial action to paint Rheneas yellow in the movie "Blue Mountain Mystery". It has become one of the more popular episodes of the season.
The Season 10 Update was uploaded on August 26, 2012. Originally, there were going to be multiple ThomasWoodenRailway Discussions to fill the gap between the two seasons, but that ended up not being the case. Instead, ThomasWoodenRailway filmed his first Q&A video and answered questions submitted by users. Following the Q&A video was the 8th layout video featuring the newly built Narrow Gauge railway next to the Standard Gauge railway. This new layout required dozens of new pieces specifically designed for the Narrow Gauge layout, such as a custom-made incline. ThomasWoodenRailway then uploaded his third documentary, "Hiro's Origins", depicting Hiro's early years on Sodor. ThomasWoodenRailway was also a judge for the  first Thomas Wooden Railway Competition, along with WoodenRailwayReviews and Jlouvier, during August and September 2012.
Season 10 began on October 2, 2012 with the episode, "A Crack in the Track", the first episode on the Narrow Gauge layout. It was also the first episode since Season 8's "The Crash Course" to feature Smudger. Throughout the course of the season, numerous new characters were introduced. Nelson, Patrick, Kelly, and Isabella were introduced as part of The Pack in "A Crack in the Track", Scruff arrived in the episode "Scruff and S.C.Ruffey", and Captain first appeared in "Captain's Crunch". In the episode "Paranoid Paxton", Flora was introduced as Toby's friend who wanted to join the Sodor Railway; however, after Sir Topham Hatt informed her that she would have to share a shed with the
other engines, she quickly left. The White Face Troublesome Truck's first episode was in "Toad the Brakevan: Missing in Action", a flashback pertaining to the events that happened before "Sodor's Last Stand". However, his real name is never revealed and he is only mentioned as "The New Truck" in the episode. Two characters reappeared in the episode "A Normal Day for Dennis" after a considerable absence. George the Steamroller, who was sent away because of his actions in "Sodor's Last Stand", was brought back to the Island to help with the demolition of the Magic Buffers, but escaped in the ensuing confusion when Norman, another character from "Sodor's Last Stand", came through the buffers unexpectedly. Norman ran away in fear of Sir Topham Hatt sending him back to The Other Railway, but later revealed himself to be useful in "Norman Invasion". Sir Topham Hatt was impressed by his work and allowed Norman to stay for a trial.
The conclusion of Season 10 was originally slated for Christmas Day 2012, but episodes were pushed back following a filming delay between the episodes "Edward Breaks Down" and "Paranoid Paxton". Therefore, the season finale took place on February 2, 2013 with the episode "Groundhog Gordon". The Season 11 Update was uploaded a week later, with ThomasWoodenRailway announcing that users could submit episode titles from February 9 to March 10. ThomasWoodenRailway also revealed that Season 11 would begin mid-September and conclude in December, with a movie following sometime in January 2014.
One week after the Season 11 Update was uploaded, ThomasWoodenRailway released a special ThomasWoodenRailway Discussion Teaser, featuring some of the items that would be seen in his next round of discussions. Although the video said discussions would start on February 27, the first discussion was not uploaded until March 16. ThomasWoodenRailway uploaded 18 discussions, featuring some new 2013 items as well as classic Thomas Wooden Railway items from the 1990's. This was the fourth time ThomasWoodenRailway uploaded discussions, and it was the first round of discussions to take place on a play-table rather than on carpet. ThomasWoodenRailway built a small, custom layout as the backdrop to the discussions, and made it appear as though the Island of Sodor was working while the reviews were taking place. This is evident when trains, road vehicles, and even people gradually gathered in the videos and appeared to be watching the discussions.
On April 24, 2013, exactly five years to the day that Keekre24 was registered on YouTube, ThomasWoodenRailway uploaded his 5 Year Anniversary video. Not only did the video celebrate the huge milestone, but it also was the first part of a ThomasWoodenRailway Competition. The Competition was scheduled to run from April 24 to May 24. Users could submit their entries as a video response to the 5 Year Anniversary video for a chance to win great prizes. A second, follow-up video was uploaded later in the year to announce the winners.
Hiatus #4
In October 2013, TWR began getting false copyright claims from overseas companies claiming that he stole their audio, which was obviously not true as he only used A) his voice and B) royalty-free music from Kevin McLeod and iMovie in his videos. TWR received 2 copyright strikes against his account for attempting to fight the claims. On October 23, 2013, TWR announced on his Twitter that he would not be making new videos for a while, leading many users to speculate that he was leaving YouTube permanently. For eight months, Keekre wasn't active on YouTube, Facebook, or Twitter.
Revival #4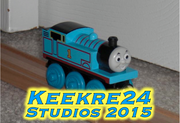 However, eight months after he was hit with the copyright claims, the copyright strikes expired as per YouTube policy, which meant one thing - TWR could keep making videos! On April 27, TWR announced on Twitter he would go back to making videos. On May 9th, 2014, TWR uploaded a video discussing the past months and why he left. He also stated that he would resume working on Season 11, and make a movie, Claw of the Law, after Season 11, all of which he did. ThomasWoodenRailway is currently working on Season 12 of his series. He also joined
TWR Community Radio
after the departure of
Oliver Duck
. On February 26, 2016, after a short absence between making videos, he released another movie, called "Oliver's Eleven".
Twitter and Facebook
ThomasWoodenRailway was the one of the first Thomas Wooden Railway users to use the social media site Twitter. He announced his plans to make a Twitter account in September 2011 during the Season 9 Update. It is unanimously considered among other Thomas Wooden Railway users that ThomasWoodenRailway is credited for bringing the Thomas Wooden Railway Community to Twitter. He currently has over 2,000 followers and 10,000 tweets.
On July 8, 2012, ThomasWoodenRailway also launched his own Facebook page. He mostly used this page to upload pictures of upcoming episodes or projects. The page reached 100 likes in December 2012. 
AdSense
ThomasWoodenRailway is a part of the Google AdSense program, which allows him to make revenue off of advertisements placed on his videos. It began in late April 2012.
Personal Information
ThomasWoodenRailway is also notable, possibly infamously, for being very secretive about his personal information. TWR has never released his name, age, or address to anybody in the community. He has stated on YouTube and Skype numerous times that "information like that does not deserve to be on the Internet", and that he would rather be "safe than sorry". However, he has revealed that he lives in Colorado.
However, in June 2017, TWR would make a huge exception to this rule by doing the very first meetup of his long career; A meetup with Enterprisingengine93 and Sidekickjason. The three filmed for the TCC and formed a charity auction on eBay, among other activities. Finally, on June 9th, 2017, in a livestream formed to help raise more money for the charity auction, TWR revealed his face to the community at long last. The livestream was also very successful in terms of the money raised.
A year later, in late June 2018, TWR would participate in the meetup known as "TWRCon2018". With over 15 people involved, it was the biggest TWRC meetup to date. On June 23rd, 2018, a livestream was hosted on TWR's channel with all of the users at the meetup involved. Notable events during the stream include a large Thomas Wooden Railway layout being built by everyone there, several face reveals and a community Island Song singalong. The livestream was a tremendous success, and was made even more special by the fact that a few days later, TWR made TWRC history by reaching 100,000 subscribers.
Cameras
ThomasWoodenRailway has used five different cameras over the time he has spent on YouTube. They are: 
HP Photosmart M437 (June 2008: Episodes 1-2)
HP Photosmart M437v (June 2008: Episodes 3-6)
Casio Exilim (June 2008 - December 2009: Episodes 7-105 plus numerous remakes and discussions)
Panasonic SDR-S26 (January 2010 - February 2013: Episodes 106-150 plus numerous discussions)
Canon XA10 (February 2013 - Present)
Former Accounts
Keekre24 (original account; suspended)
NWBrakevan (second account after Keekre24 was hacked; closed)
Keekre24FanClub (back-up account following the hacking of Keekre24; open but inactive)
Keekre23 (used to upload a TWR/LEGO video in May 2008; closed)
Keekre25 (original back-up account; closed)
LuigiKart64 (originally intended to upload Mario Kart Wii videos in June 2008 but never materialized; closed)