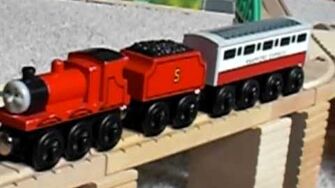 "Wilbert to the Rescue" is the ninth episode of ThomasWoodenRailway's series Thomas the Tank Engine and Friends Wooden Railway Adventures, and is the ninth episode of Season 1.
Plot
After sending Spamcan and Class 40 away for being troublesome, The Fat Controller orders two new engines: Wilbert and Frank. Frank is energetic and eager to get started on his new jobs, but Wilbert is calm and is a little bit homesick for the forest on his previous railway. Skarloey asks Wilbert to help pull a train with him, while Frank runs off to do his work alone. Later, Frank arrives to pull a train at the Docks, where Harvey gives him a few pointers on the trucks. Frank becomes cross and dismisses him because he's a crane engine. He then runs into Arry and Bert farther down the line who refuse to move a cargo car out of the way since he is friends with steam engines. Determined to get back at the diesels, Frank bumps the cargo car, hoping it will hit them. Instead, it travels down the wrong line toward an oncoming train pulled by James. Wilbert sees the cargo car running down the line while Skarloey is refilling at the water tower. He jumps in front of the cargo car just in time and stops it from hitting James's train. Everybody hails Wilbert as a hero and for proving that he is a really useful engine.
Cast
The Fat Controller
Frank
Wilbert
Percy
Skarloey
Toby 
Thomas
Harvey 
Arry 
Bert
James
Bulgy (cameo)
Grey Troublesome Truck (cameo)
Troublesome Truck (cameo)
Henrietta (cameo)
Terence (cameo)
Fred (cameo)
S.C.Ruffey (cameo)
N.W.Brakevan (cameo)
Cranky (cameo)
Sodor Bay Tugboat (cameo)
George (cameo)
Tigermoth (cameo)
Edward (cameo)
Rocky (cameo)
Gordon (cameo)
Jack (cameo)
Alfie (cameo)
Butch (cameo)
Henry (cameo)
Mavis (cameo)
Boco (cameo)
Arthur (cameo)
Thumper (cameo)
Bertie (cameo)
Mike (cameo)
Stepney (cameo)
Murdoch (cameo)
Trevor (cameo)
Duck (cameo)
Spencer (cameo)
Harold (cameo)
Trivia
First appearances and speaking roles for Wilbert, Frank, Arry, and Bert.
This video was originally uploaded to Keekre24 on June 28, 2008. It was reuploaded to ThomasWoodenRailway on March 13, 2009.
This is the first episode in a four part series titled "Wilbert and Frank", which explores Wilbert and Frank's new lives on the Island of Sodor.
The scene at the Docks where Harvey reminds Frank about the trucks is reminiscent of a same conversation between Boco and Thomas during the Season 1 episode, The Trouble with Trucks.